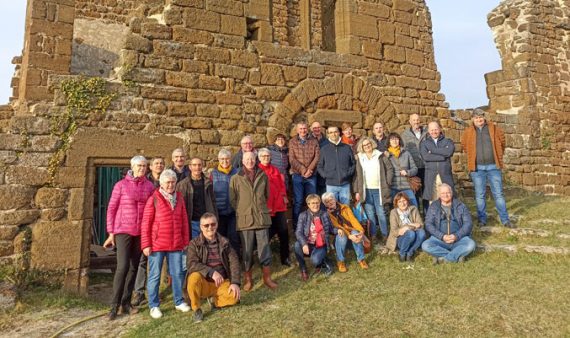 The Forteresse de Polignac is still part of the heritage of the Polignac family through the Forteresse de Polignac Foundation, created in 1998 by Princess Constance de Polignac. It has been managed since 2012 by the Forteresse Polignac Patrimoine Association made up of the main players in the territory of the village.
The aim of the Association is to manage, promote and animate the Fortress of Polignac as well as the rich heritage of the village.
Composed of invested members, the Association's commitments are based on 4 fundamental points:
Do everything possible to guarantee the widest possible period of opening to the public
Offer a rich and varied program that touches all types of audiences in order to encourage the return of visitors to the Fortress
Highlight the entire village heritage through the image of the Fortress
Integrate all the actors of the village in order to create a real cohesion between elected council members, traders, accommodation providers and inhabitants in order to make a village, a municipality and not just a monument live.
OUR PARTNERS
THE TOWN HALL OF POLIGNAC
THE FORTRESS OF POLIGNAC FOUNDATION
Owner of the Fortress, the Foundation aims at preserving and enhancing this site which has been in the Polignac family for almost a millennium.
THE PERMANENT CENTER OF INITIATIVES FOR THE ENVIRONMENT OF VELAY (CPIE OF VELAY)
Association labeled for the benefit of sustainable development, the CPIE acts to raise awareness and educate everyone about the environment. It also aims at supporting the territories in their projects.
The CPIE du Velay is committed to promoting the volcanic heritage of the Haute-Loire and the Massif Mézenc Gerbier in order to unite the players through the "Volcan en liberté" project which concerns 30 sites including the Fortress.
This project provides the various sites with scientific support and assistance in the design of interpretation trails, educational materials and travel diaries. Residents, tourists or schoolchildren, everyone is concerned.
Haute-Loire CPIE: 04.71.03.01.17
DEPARTMENT OF ART AND HISTORY OF THE PUY-EN-VELAY AGGLOMERATION
The purpose of the Pays d'Art et d'Histoire service is to promote the heritage of all the municipalities that make up the Agglomeration of Le Puy through visits, exhibitions, events or conferences adapted to different audiences.
Information at 04-71- 07-00- 00
LAVOÛTE POLIGNAC CASTLE
For a thousand years, the castle of Lavoûte-Polignac has dominated the Loire with its towers. This residence of the Dukes of Polignac contains an important collection of works of art, paintings and archives related to their illustrious house.
Information on 04 71 08 50 02.
THE COMPANIONS OF PANAVEYRE
It is an association constituting one of the islands of the festival of « Le Roi de l'Oiseau » and participating in the animation of the community of agglomerations through various medieval festivals: Allègre and the medieval archery tournament at the fortress of Polignac.
The link for the Medieval Archery Tournament is as follows:
HAUTE-LOIRE TOURIST OFFICE
http://www.auvergnevacances.com
Les cookies assurent le bon fonctionnement de nos services. En utilisant ces derniers, vous acceptez l'utilisation des cookies. More information