At the Portes du Puy-en-Velay, Polignac and its medieval Fortress invite you to discover them …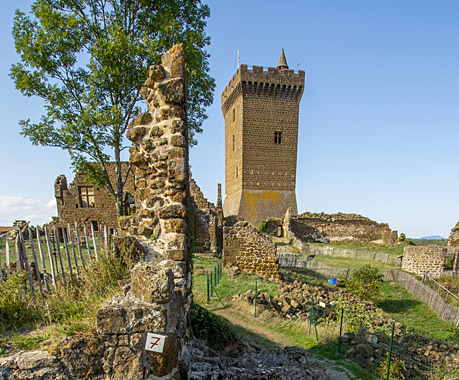 A wealth of heritage
With its twenty hamlets, Polignac has a rich heritage. Bread ovens, fountains or crosses are to be discovered during your walks, the church has a nave and famous 12th century frescoes and the majestic fortress welcomes any curious visitor!
AN EXCEPTIONAL HISTORICAL MONUMENT PERMANENTLY ANIMATED
The Fortress of Polignac, perched on a volcanic hillock, offers a breathtaking view. From its platform, the site invites  the visitor to marvel at the unparalleled panorama of the region. The fortress has inspired and seduced famous visitors: George Sand locates the action of one of her novels, the Marquis de Villemer there, and Prosper Mérimée, the first inspector of historical monuments, lists it as far back as 1840. A fascinating circuit runs through the remains of the fortress and leads the visitor to the discovery of this magnificent site.
800m of ramparts

1h30 for a visit

14 Points of interest

3 hectares
Getting to the fortress
Polignac Fortress ticket office
PLACE PRINCESSE DE POLIGNAC 43000 POLIGNAC 04 71 04 06 04
Just 5 minutes from Le Puy-en-Velay